Valentine's Day – it's not just about giving your wife, girlfriend, husband, or boyfriend gifts to say "I Love You." It's about celebrating anyone who's brought love into your life, or who you simply "love" because she is your best friend, mother, or sister.
In fact, one great way to honor the girl who very well may be your truest friend and toughest critic—your sister—is by presenting her with some PANDORA jewelry from our store near Haddonfield, NJ.
Here are just a few, of the many charms, necklaces, earrings, and rings you may want to consider to honor your unique connection on February 14:
Charms:
Sister's Love, Pink CZ – Allow her to show off the unique bond you two have with this sterling silver charm shaped like a heart and that's engraved with the word "sister."
Best Friends, Soft Pink Enamel & Clear CZ – If she is your best friend, consider this charming split sterling silver charm that features two parts, and will allow you to put on two different bracelets (hers and yours).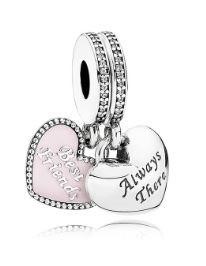 Latin Love Heart, Transparent Cerise Enamel – This classic and stylish sterling silver charm is a heart pierced by two arrows that features the words "Amo te," the Latin phrase for "I love you."
Rings:
One Love Stackable Ring, Synthetic Pink Sapphire – This delicate lotus-pink heart ring made of sterling silver will allow her to show off her girlie side whenever she wears it.
Forever Love Stackable Heart Ring – The love and bond you have will be eternal, so there's no doubt that presenting her with this carefully crafted heart stacking ring will commemorate that.
Earrings:
Sparkling Elegance, Clear CZ – Help her draw attention to her ears with these dazzling silver stud earrings that will surely shimmer for years to come.
Be My Valentine Stud Earrings, Clear CZ – These dazzling earrings will make a great accessory on that next girls night out, or any other special occasion.
Visit our store at the Cherry Hill Mall in Camden County, NJ today to see all of the PANDORA charms, necklaces, earrings, and rings we have to honor your sister, mother, or another special lady in your life. To learn more about what's currently in our inventory, please also give us a call at 856-254-2902.