When you hear the phrase "back to school," what do you think of? Probably new faces, fresh schedules, and piles of homework. Did you forget back to school is also a great time to shop? Now is the perfect time to spruce up your wardrobe and get ready for the best semester yet with new clothes and new PANDORA jewelry from our Cherry Hill, NJ store. Teachers and students alike can enjoy a fantastic selection of back to school charms ranging from studious little owls to sweet musical notes.
PANDORA of Cherry Hill has something for everyone. Take a look at our most popular back to school charms, as chosen by you!
Clear CZ, Sweet Music Charm This decorative treble clef, embellished with cubic zirconia sparkles is a must-have item for any music lover in your life. Add some sweet music to your PANDORA charm collection or gift it to your favorite music teacher!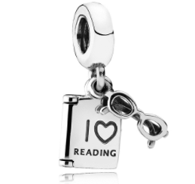 I Love Reading Charm Calling all bookworms: the I Love Reading charm belongs to any
woman that has a passion for words, learning, and books! This fun little charm features a loosely hanging book and set of glasses — a perfect gift for an aspiring author or fellow student in your life.
Clear CZ, Shining Path Charm Maybe this is your first teaching job, or maybe you are leaving home for the first time going off to college; either way, the Shining Path Charm is a great representation for new beginnings and a bright future ahead!
Blue Iridescence Fascinating Murano Charm We've got spirit, yes we do! We've got spirit, how about you? With multiple colors available, the PANDORA Murano charm series is perfect to share your school spirit on the wrist, or on a necklace. The Blue Iridescence charm features a unique and captivating effect that changes with every different angle.
Graduate Owl with Swiss Blue Crystal & Clear CZ Owls have long been known to be a symbol of wisdom, which is why we always take owls back to school with us! The Graduate Owl charm features two striking blue crystals as eyes and a chest filled with dazzling cubic zirconia stones. Owls make a great graduation present for students and teachers alike!